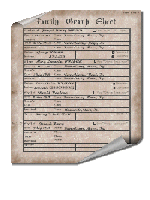 Harden to White:
Adair County Deed Book S, page 73
---
(Some punctuation added for clarity. Original spelling maintained.)
This indenture made & entered into this 18th day of November 1861 between Alexander Harden & Mary Harden his wife of the first part & A.J. White of the second part, both parties of Adair County Kentucky. Witness to that the said Harden & wife for and in consideration of the sum of one hundred & sixty dollars, one hundred & fifteen dollars in hand paid the receipt of which is hereby acknowledged, & forty five dollars due, a lien for which is hereby retained on the land hereinafter mentioned, has this day given, granted, bargained & sold & by these presents doth give, grant, bargain, sell & convey unto said White his heirs & assigns forever a certain tract of land & appurtaninances thereunto belonging. Situated in said county & state & bounded as follows (to wit); Beginning at a Sourwood by a well, thence S 421/2 E 72 poles to a stake & sugartree & beech pointers on the river, thence up the same with its measures N 29 E 74 poles N 11 E 17 poles to an ash beech & white oak, thence N 30 W 33 poles two beeches & dogwood in Alex Miller's line, thence with the same N 44 W 80 poles to a stone, hickory dogwood pointers in the back line of said Harden survey, thence with the same S 68 W 33 poles to a dogwood & hickory, thence S 18 E 95 poles to the beginning, containing 50 acres by survey, to have & to hold said land & appurtenances thereto belonging unto said White his heirs & assigns forever, and said Harden & wife covenant & agree to warrant the premises hereby conveyed free from & against the claims of any all persons whatever. Witness our hand this date above written.
/s/ Alexander Harden
/s/ Mary 'her X mark' Harden
Attest J.M. Young
State of Kentucky}
County of Adair } Sct
I, Sinclair Wheat, Clerk of the County Court for the County aforesaid do hereby certify that this deed from Alexander Harden & Mary Harden his wife to A.J. White was this day produced to me in my office and acknowledged by said Harden & wife to be their act & deed separate & apart as the law directs, whereupon I have recorded said deed with this certificate in my office. Witness my hand this the 18th day of November 1861.
/s/ Sinclair wheat
C.A.C.C.
***************************************************************************