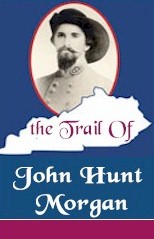 Read about John Hunt Morgan's' Historic Raids across Kentucky!
The Great Raid In Cane Valley - July 3,1863

The Door was Left Open! Great Raid In Columbia, July 3, 1863
Camp Billy Williams near Neatsville
---
Be sure and check out this site... great background info on the Western portion of our State!
10,000 Trails in Western Kentucky