David H. Faircloth and Mary Edwards Faircloth Headstone Caney Fork Cemetery, Casey County, KY. David was the son of Franklin P. Faircloth. They were the parents of Marcella Faircloth Adams. Mary Edwards Adams was the daugther of James Robert Edwards and Sally Ann Russell Edwards.
Contributed By: Peggy Lee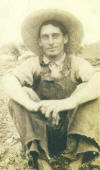 Jess Johnson. Son of Moss and Malissa Edwards Johnson. Married to Laura Gladys Lee. Daugther of J. Richard and Nannie J. Zachary Lee.
Contributed By: Peggy Lee