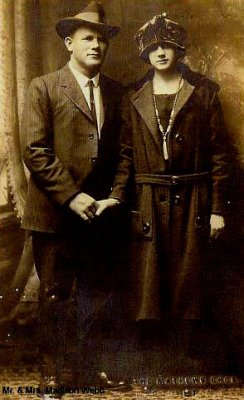 Madison Matt Webb and Wife Naomi Johnson About 1923
Matt was part owner of the Warsaw Ferry with his brother Jeff Webb from the 1920s thru 1940s. Matt was the ferry pilot during those years. After the ferry was sold Matt continued to pilot the ferry for the new owners Young & Hart through the 1950s.
Contributed By: David Webb

C. N. Black & Sons huckster truck. In the picture are (from left to right) my grandfather C. N. "Newt" Black, my uncle Marvin L. Black, and my father Charles "Cecil" Black.
Contributed By: Cheryll Black Obendorf

Lee Gregory (in buggy)carried mail from Warsaw, KY to Glenco, KY and also to Patriot, IN in 1890s. Other man (standing) is unknown.
Contributed By: Patrick Gregory