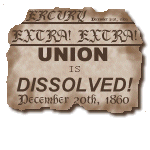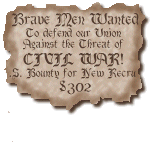 Green County and the Civil War
Much of the original design of this page was done by Debbie Hund Hogan.

"All have distinguished themselves on every battlefield. They are Kentucky names, and we love to repeat them; they are heroes and we are proud of them; they are patriots and we honor them." -author unknown
Civil War Veterans buried in Green County, Ky
Confederate Soldiers of Green County
Union Soldiers of Green County
Green County men served primarily in the Union 13th Kentucky Infantry ("Hobson's Regiment"), 27th Kentucky Infantry and 6th Kentucky Cavalry. Those allied with the Confederacy served in Morgan's 3rd Confederate Cavalry (later known as the Kentucky 7th Confederate Cavalry). The old phrase "brother against brother" was dramatically underscored for Green Countians when Morgan's Raiders, including the Kentucky 7th Confederate Cavalry, was captured in Ohio on July 26, 1863 by a force that included Hobson's Regiment.

Hobson's Regiment - Union 13th Kentucky Infantry
Mustered in: December 10, 1861 at Camp Hobson (near Greensburg, Ky.)
1st Commander: Col. Edward H. Hobson
Field Officers:
Lt. Col. William E. Hobson
Lt. Col. John B. Carlisle
Lt. Col. Benjamin P. Estes
Maj. John P. Duncan

Assignments:
Boyle's Brigade, Crittenden's Division
E.H. Hobson's Brigade, Crittenden's Division
2nd Brigade, White's Division
1st Brigade, Hascall's Division, 23rd Army Corps

Engagements:
Shiloh
Occupation of Corinth
Pursued Bragg out of Perryville
Pursuit of Morgan after the Christmas Raid, Jan. 1863
Pursuit and eventual capture of Morgan, July 6-26, 1863
East Tennessee Campaign with Burnside, Summer 1863
Huff's Ferry Engagement (41 men lost)
Seige of Knoxville
Sherman's Atlanta Campaign

Mustered Out: January 12, 1865 at Louisville, Ky.
Notes:
A letter written by Gen. Julius White after the war regarding Hobson's Regiment stated:
"I have commanded during the war some sixty regiments of infantry, and among them all there was not one better, if as good, as the 13th Ky. Not only was that regiment wholly reliable during an engagement (for they were always as brave as the bravest), but in camp, on the march, on all occasions and everywhere, that regiment could be depended upon for the prompt performance of every duty. The country owes the 13th Ky. a heavy debt of gratitude for its lofty patriotism and unyielding courage and endurance."

Morgan's 7th Kentucky Confederate Cavalry
Mustered in: September 1, 1862
1st Commander: Col. Richard M. Gano
Field Officers:
Lt. Col. J. M. Huff
Maj. Lt. Col. M. D. Logan
Maj. Theophilus Steele

Assignments:
Morgan's Cavalry Brigade, Dept. East Tennessee
Morgan's Cavalry Brigade, Army of Tennessee
Cluke-Johnson's Brigade, Morgan's Cavalry Division, Army of Tennessee
Johnson's Brigade, Morgan's Division, Wheeler's Cavalry Corps, Army of Tennessee

Engagements:
Kentucky Campaign Aug.-Oct. 1862
Lexington (Gano's squadron)
Hartsville
Morgan's Christmas Raid Dec. 1862-Jan. 1863
Muldraugh's Hill Trestle
Morgan's Ohio Raid - captured July 26, 1863

Notes: This unit was previous known as the Kentucky 3rd Confederate Cavalry.

Union 6th Kentucky Cavalry
Mustered in: Late 1861 Co. A-E mustered in as "Mundy's Battalion"; Summer 1862 Co. F-M consolidated with Mundy's Battalion to become the 6th Cavalry.
1st Commander: Col. Dennis J. Hallisy
Field Officers:
Lt. Col. Reuben Mundy
Lt. Col. Wm. P. Roper
Maj. Lewis A. Gratz
Maj. Wm. H. Fidler
Maj. Walter F. Stafford

Assignments:
Operated primarily as "independent" battalions in early part of it's existance, each battalion sent where ever it was needed at the time. 6th Cavalry finally united in Lebanon, Ky. in Dec. 1862
Hoskin's Brigade
Watkin's Brigade, Granger's Division, Stanley's Corps, Army of the Cumberland
Watkin's Brigade, McCook's Division
Watkin's Brigade, McCook's Division, Gen. Wilson's Cavalry

Engagements:
1st Battalion participated in the battles of Tazewell,Tn., Cumberland Gap and Richmond, Ky.
3rd Battalion captured prisoners from Bragg's army in Stanford, Ky.
2nd Battalion met Morgan at Bardstown
Pursuit of Morgan in winter, 1862-63 with Col. Hallisy being killed at New Market, Ky. near Campbellsville.
Franklin-Brentwood, Tn.
Charge on the Texas Legion near Spring Hill, Tn., capturing 128 prisoners.
Chicamauga Campaign
Atlanta Campaign
Battles of Pigeon Mountain, Adairville, and Calhoun
Lafayette, Ga. against Gen. Pillow
Met Lyons at Hopkinsville, Ky., forcing him to retreat from the state.
Battle of Nashville

Mustered Out: July 14, 1865
Notes:
Companies F-M were comprised of men from central Kentucky including Taylor Co. This regiment saw very rigorous duty and almost continuous activity at the front.

Union 27th Kentucky Infantry
Mustered in: Fall 1861 (?)
1st Commander: Col. Charles D. Pennebaker
Field Officers:
Lt. Col. John H. Ward
Maj. John Carlisle
Maj. Samuel J. Coyne
Maj. Alexander Magruder

Assignments:
Hazen's Brigade, Nelson's Division
Crittenden's Division
Pennebaker's Brigade
Strickland's Brigade, Hascall's Division

Engagements:
Occupation of Corinth
Perryville, on skirmish lines
East Tennessee Campaign
Knoxville
Cut off at Leiper's Ferry
Seige of Knoxville
Bean's Station
Atlanta Campaign

Mustered Out:
Notes:
This regiment was formed before Kentucky, as a state, had called for Union volunteers. Those men traveling to the camp in Greensburg to be enlisted often had to fight their way past Confederate forces to get there. Upon their arrival to camp, they found that none of the governmental support normally offered to military units was available. According to an account written by Col. John Ward, the officers managed to scrounge up $13 pay for each of the first new recruits to give to the needy families they were leaving behind. By the time these recruits were ready to leave camp for the war, government support was starting to filter in. The men heading out of camp often loaned their second month's pay of $13 back to the officers to pay for other new recruits to leave money to their families. He states "Here was tried and true patriotism that people and soldiers outside the border states knew nothing about". The regiment only consisted of nine companies.

Back to Green County's Main page