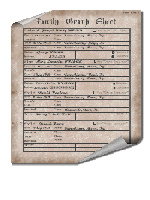 Green County Surnames and Family Histories Online

These fine folks are providing research assistance by posting their family trees online or by doing look-ups in their family trees. If your family tree is posted online and includes a Green County connection, I would be delighted to include a link to your site here. When you e-mail the link, please give a brief description of the site including a title and a sampling of the Green County surnames that can be found there. Looking through family trees with Green County roots is an excellent way to find information on your Green County ancestors.

Gene Perkin's Family Tree

Includes over 4,100 descendants of families from Central Kentucky counties (including Green). Surnames include:

ALLEN, BELL, BLOYD, CARTER, DEWITT, HASH, HOOVER/HUBER, HOWELL, MARTIN, MCCUBBINS, NOE, PERRY, PICKERELL, REEVES, and SCOTT.

The Descendants of Hugh Warren I

by

Larry A. Warren


Surnames include: Bell, Cantrel, Despain, Johnson, Lee, Morrow, Pepper, Salsman, Skaggs, Thompson, Underwood, Walker .

The Mason Dixon Connection

- by Thomas & Melanie Mitchell. Surnames include:

BLOYD

and WARREN

CAVE EXPLORATIONS

Surnames include: CAVE, COTTRELL, COTTERELL, JAGGERS, BENNETT, MCCUBBIN, BURBA, WADDLE, SHIVELY, PAYNE, GUM, THOMPSON, WEST, ATTERBERRY

Debbie Raque's Home Page

- There are a lot of Green County surnames on this site. Includes: DESPAIN and SHOFNER

Lucy DeYoung's Ancestors

- There are a lot of Green County and Central Kentucky surnames on this site. Includes: PEMBERTON, WATSON, WILKERSON, and ROBERTSON

The Morgan / Davidson Ancestry

Green County Surnames include: Morgan, Oakes(Oaks), Warf .

The Creel-Rigney-Stapp Family Page

Surnames include: RIGNEY, STAPP, and CREEL. Includes Reuben Creel of Mexican War fame.

Shope Family Homepage

Surnames include: SHOPE, BRYANT, DURHAM, SKAGGS, and PERKINS.
Skaggs Family Geneaology Resources by Ida M. Lancaster - Ida has written 6 books about the Skaggs families. The book "

Skaggs Carousel

" is mostly about the Green County SKAGGS.

Jeremy Johnson's Family Tree

Surnames include: SKAGGS, DOTSON, AND OTHERS
Ed Schan's Geneaology Page Green and Barren County Surnames include: SLINKER, PITMAN, and SHIRLEY. ( Not Active Page )

Wayne Walker's Web Page


Surnames include: WALKER, PAXTON, MOORE, McMAHAN, RUTHERFORD, HAMMER, PATRAM, HEIZER, CHAPMAN, HATTON
The Ancestors of Shirley Rankins Perez - by Shirley Perez
Surnames include: Shipp, Sanders, Sullivan, Wooley/Owley, Settle, Mann, Wilkerson, Strother.
T

rotter-Skiles Website

- by George Trotter
Surnames include: Trotter, Hay. Shipp, Marrs, Hanks, Hazard, Hawkins, Colvin, Russell, Wright, Wilson and Robertson
UNDERWOOD, SKAGGS, DESPAIN, MARCUM, COMPTON, ELKIN, ETHERTON, WARREN, and SHOFNER .
Lynny Cordes' Website

GOFF, CLARK, KESSLER, CHAUDOIN, MONTGOMERY
Ann Hoskins-Brown DeJarette and Allied Families in America
Surnames include: DeJARNETTE, COLLINS, NcGEHEE, RICHARDSON AND RICHESON. Bell, Milby, Price, and Allied Families in America Berry, Blakeman, Black, Brown, Curry, Kessler, Lacefield, McDaniel, Moran, Sherrill, Stockton, Taylor, Workman, and Wright
Ann Hoskins-Brown Edythe Cowherd Newton's Cowherd Genealogy
Surnames include: COWHERD, RICHESON, RICHERSON, GRAVES, BARNETT, BLAKEY, CAVE, CRABB, PRICE, RAFFERTY, SCOTT, WILSON AND WOOD.

The Path That Led

Website with Photos Email June Hines for password Information on Bowen, Bright, Nunn, and related families.

Back to Green County's Main Page
This page was created on March 3, 1999
This page was last updated on March 16, 2009