Griffith Tombstone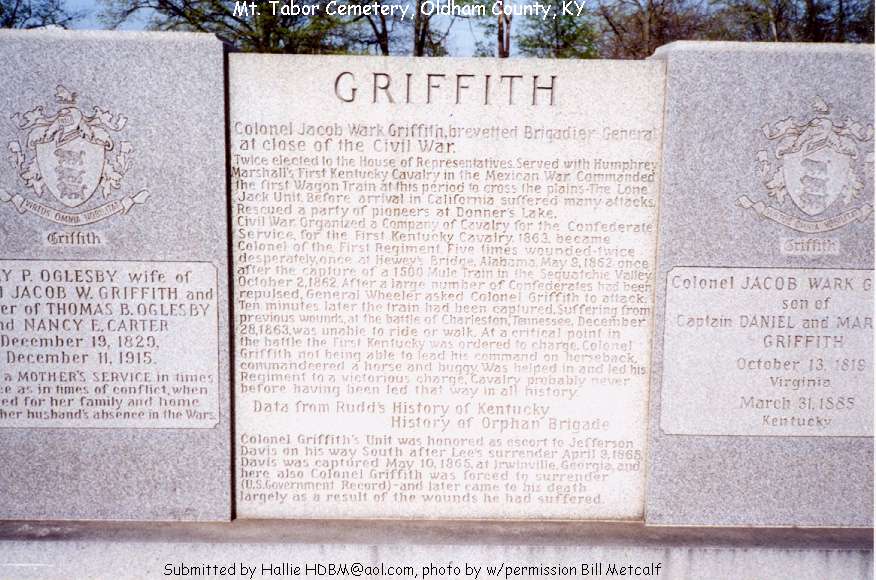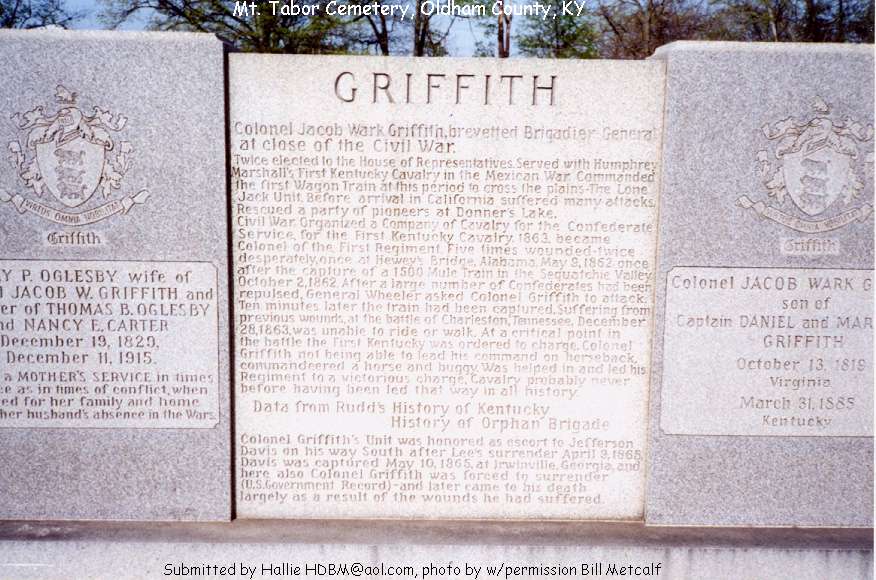 This is the text on the center section of the Griffith tombstone . . .
"Colonel Jacob WarkGriffith, twice brevetted Brigadier General at close of the CivilWar.
Twice elected to the House of Representatives. Served withHumphrey Marshall's First Kentucky Cavalry in the Mexican War.Commanded the first Wagon Train at this period to cross theplains - The Lone Jack Unit. Before arrival in Californiasuffered many attacks. Rescued a party of pioneers at DonnerLake.
Civil War. Organized a Company of Cavalry for the ConfederateColonel of the First Regiment. Five times wounded - twicedesperately, once at Hewey's Bridge, Alabama, May 9, 1862, onceafter the capture of a 1500 Mule Train in the Sequatchie ValleyOctober 2, 1862. After a large number of Confederates had beenrepulsed, General Wheeler asked Colonel Griffith to attack."Ten minutes later, the train had been captured. Sufferingfrom previous wounds at the battle of Charleston, Tennessee,December 28, 1863, was unable to ride or walk. At a criticalpoint in the battle the First Kentucky was ordered to charge.Colonel Griffith not being able to lead his command on horseback,commandeered a horse and buggy. Was helped in and led hisRegiment to a victorious charge. Calvary probably never beforehaving been led that way in all history."
Data from Rudd's History ofKentucky, History of Orphan Brigade
Colonel Griffith's Unit washonored as escort to Jefferson Davis on his way South after Lee'ssurrender April 9, 1865. Davis was captured May 10, 1865, atIrwinville, Georgia, and here also Colonel Griffith was forced tosurrender (U.S. Government Record) - and later came to his deathlargely as a result of the wounds he had suffered.
(left side) MARY P. OGLESBYwife of Colonel JACOB W. GRIFFITH and daughter of THOMAS B.OGLESBY and NANCY E. CARTER
December 19, 1829,
December 11, 1915.
Her life a MOTHER'S SERVICE in times of peace as in times ofconflict, when she cared for her family and home during herhusband's absence in the Wars.
(right side) Colonel JACOB WARKGRIFFITH
son of
Captain DANIEL and MARTHA W. GRIFFITH
October 13, 1819
Virginia
March 31, 1885
Kentucky
* Griffith, Jacob Wark(1819-1885) -- also known as "Roaring Jake";"Thundering Jake" -- Born in Jefferson County,Va. (now W.Va.), October 13, 1819. Served in the U.S. Army duringthe Mexican War; member of Kentucky state legislature, 1854-55,1878-79; colonel in the Confederate Army during the Civil War.Father of famed early 20th century filmmaker D.W. Griffith.Died, of peritonitis, in Oldham County, Ky., March 31, 1885.Interment at Mt. Tabor Methodist Cemetery, Oldham County, Ky. Credits: "Political Graveyard"
D.W. Griffith: "I have not bothered about an ancestry; itis likely though that I was impressed in my childhood withcertain family traditions which had come down through the mist offormer generations; one was that ap Griffith, a WelchPrince of Wales, was the founder of one side of the house, andthat a Lord Bravington who revolted with Monmouth and lateremigrated under duress to Virginia, was a founder of the otherside of the American Griffiths."
"I used to be told of a great-grandfather in Virginia, astormy, fierce old man who refused to allow the word England tobe spoken in his presence and who, as far as he could, barred hisdoor to anything English." '"My grandfather was aCaptain David Griffith, who fought in 1812."
"Lofty Green plantation, nearCrestwood, Kentucky, in the home of a former gold seeker andCivil War cavalryman. Jacob Griffith had fought in Tennesseeunder Joe Wheeler, winning favorable notice for capturing aheavily-defended, ten-mile-long, train of over a thousandmule-drawn wagons. When his wife Mary gave birth to a son, onJanuary 22, 1875, he was named David Wark (his father's middlename) Griffith. After the war Jacob had settled down in a houseon the family plantation. The main house had inexplicably burnedto the ground a few weeks after the war's end. The 264-acreplantation would never regain its pre-war luster. Theex-cavalryman, wounded at least twice, would spend the remainingtwenty years of his life having children, drinking, gambling, andplaying the fiddle. And telling tales. He kept his regard for hisson well-hidden, but young David was present on many occasions,hiding under the dining table, when his father held forth. Warexperiences, readings from the romantic poets and the novelists(such as Dickens), recitations from Shakespeare, all fell on oneextra pair of receptive ears. Father and son attended a magiclantern show one night at a nearby schoolhouse. The youngerGriffith later recalled the occasion, remembering the farmersstanding outside, before the doors opened, the light of theirlanterns bouncing off the icicles festooning the eaves. In hisautobiography Griffith would write of sitting next to his fatherand feeling, "the warmth of his great body...as much raptureas a childish heart needed."
http://www.home.eznet.net/~dminor/TM990123.html
."Roaring Jake," was somewhat of a drifter. He cameto Kentucky from Maryland in 1840 at age 21. He apprenticedhimself to two medical practitioners and soon established his ownpractice.
In 1846 he left Kentucky to fight in the Mexican War. Two yearslater, he returned to wed Mary Oglesby. after two years ofmarriage, he joined a wagon train headed for California and camebak to Kentucky in 1852 to and re-established his "medicalpractice". He was elected as a representative of Oldham andTrimble counties by 1854.
At the outbreak of the Civil War, he joined the Confederacy. Itis during this time that he received his nickname, "RoaringJake." At the Battle of Corinth, Tenn., Roaring Jake wasunable to mount a horse due to a wound he had received a fewmonths earlier. Not defeated by this wound, leading a victoriouscharge upon the enemy in a a horse and buggy hecommandeered ,
Jake was a gambler in war and peace, and he had a gambling habit,enamoured by the possibility and thrill of winning large stakes.His wife as the heir to a 264-acre farm in Kentucky. He mortagedthe farm, unbeknownst to his family or wife. After he died, inthe settling of his affairs and estate, the family soon learnedthat he had taken out three mortgages on the farm, one of them aspayment to settle for a gambling debt. His personal property wassold at auction in an attempt to settle his debts.

After Jacob's death, the family moved to Southville insouthern Shelby County, Ky., to live with the older son, Will,and his wife, Ann Crutchers. About 1890, the family had movedagain, to First Street in Louisville.

The son of "Roarng Jake" **TheLife of David Wark Griffith
David Wark Griffith was born on January 22,1875, near La Grange, Kentucky. Much of the Southern brand ofromanticism and melodrama one finds in Griffith's work can betraced to his childhood. His father, Jacob Wark Griffith, was afarmer who had been a Confederate Civil War veteran, westernadventurer, and a Kentucky legislator. The mythic image of hisfather influenced with no doubt Griffith's tastes in drama. Hismother, a devout evangelical Methodist, shaped his moral values.His older sister, Mattie, was a school teacher, and she sparkedGriffith's passion for literature, a result of their father'shabit of reading classical literature to the family.
When Griffith was ten-years-old, his fatherpassed away, leaving the family in financial poverty. They wereeventually forced to move to a farm belonging to a relative inShelby County. This was an unhappy time for Griffith, compoundedby his dismal experiences at school. Griffith's family was notsuccessful working their new farm either, and they were once moreforced to move to Louisville where they tried, with littlesuccess, to run a boarding house. Griffith sold newspapers tohelp the family, and later dropped out of high school to work ata better job as a n elevator operator at a dry goods store. Hethen left this position to work at a bookstore, which exposedGriffith to a wider range of books and literature.
Around this time Griffith became interestedin the theater. Determined to become a great playwright, he begana career in the theater, beginning with a twelve-year career as astage actor in 1895. He made his first appearance under thepseudonym Lawrence Griffith. The following year he joined atouring stock company, making a very meager living as he traveledfrom town to town, acting in plays and begging for food. When hewas no acting, Griffith wrote. His first produced play, A Fooland a Girl (1907), was financed by James K. Hackett. However, itwas a commercial failure. This and his marriage to a youngactress, Linda Arvidson, convinced Griffith to temporarilyabandon his aspirations to become a great playwright in order tofind more viable work; he found work in motion pictures. Hisinitial motivation for working in motion pictures was simply outof need for money. He began as an actor and a scenarist for filmsin New York, playing the lead in the one-reel Edison Company filmRescued from an Eagle's Nest near the end of 1907. He then movedto the Biograph Company's studio in New York, continuing to actand write for several months when the chief director became ill.Griffith was hired as a replacement, and he directed his firstfilm in 1908, The Adventures of Dollie.
* Credits to Political Graveyard
** Credits for this information: http://www.silentsaregolden.com/articles/griffithgrave.html used here for educational and informationalpurposes only-