Owen County, Kentucky is proud to be a part of KYGenWeb.
If you are interested in hosting a Kentucky county or volunteering in some other way, please contact Sherri Hall Bradley, State Coordinator.
Search Our Site
Search KYGenWeb
Special Notes from Owen County
Do You Facebook?
Kentucky History and Genealogy Network-Facebook Groups

Kentucky History and Genealogy Network is a free resource representing thousands of people wishing to identify and connect with their Kentucky roots.

kentuckyhgn.org

Click on the map to visit this site (you must have a Facebook page)

Kentucky History and Genealogy Network is not associated with any genealogical, historical, or governmental organization. We are independent and volunteer-based.
The Owen County History book has been released!! Check it out here!!

Owen County Historical Society/Museum
206 North Main Street
Owenton KY 40359
Phone: 502-484-2529
502-514-3599
Email: owencohistory@yahoo.com
Website: www.owencohistory.com

1370 HWY 22 East


Owenton, KY 40359-9201
Phone: 502-484-3450
FAX: 502-484-3450

Owen County Historical Society

The Owen County Historical Society maintains a history museum and genealogical research center at 206 North Main Street in Owenton. Program meetings are held on the second Thursday of each month at 6:30 p.m. at the Odd Fellows' Hall located at 141 West Seminary Street. Special events and exhibits are featured throughout the year. Dues are $25.00 annually. Members receive a quarterly newsletter. The Society has many publications for sale at the museum and also maintains an historical/genealogical collection in the Kentucky Room at the Owen County Public Library.

Joan Kincaid County Clerk

136 West Bryan St.

Owenton KY 40359
(502) 484-2213

has Marriage Records from 1819 and Land Records from 1819

Email: owencountyof535@bellsouth.net

Web Site: www.owencounty.ky.gov/clerk
Owen County Mail Lists & Message Boards

Neighboring Counties
This KYGenWeb Site is Generously Hosted By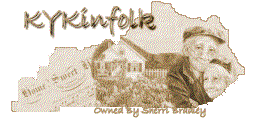 ©Copyright 2008 - 2016 by Owen County Genealogy Project All files on this website are copyrighted by their submitter and creator. They may be linked to, but may not be reproduced on another website or in any other form, without specific permission of the submitter, owner, publisher and this site moderator. Although public records are as such not copyrightable, the manner in which they are presented, including the notes, comments, etc. are. The information on this site is provided free of charge, by volunteers, for your personal use only. If you have records that you'd like to see added to this site, please contact Sherri or Suzanne and we'll be glad to add them to this collection.
If you have arrived at this site via a paid subscription database service, please know that the data contained on KYGenWeb Project sites has been donated by hardworking volunteers and has been providing genealogical data and information, as well as help for researchers, free of charge since 1996.