Eli Francis Atha, (1870-1931), son of John A. Atha and Delilah Ann Brammell. He married Amanda Ann White, daughter of John William White and Sarah Ann Thacker. All lived in Owen County for at least part of their lives. The picture was probably taken in the mid to late 1870s.
Contributed By: David Dearinger

Taylor Family
Center left; Charlie Taylor, Center right, his brother, John Lem Taylor. I believe the women are Charlie and John's sisters, but I don't know for sure. Here are the names of their sisters. They were residents of Monterey for a time but ended up in Franklin Co.
Eliza Jane Taylor Wilhoite, b. 1867, d. 1952
Mary "Mollie" Bell Taylor Tolls, b. 1872, d 1945
Sarah Taylor Hyatt, b. 1878, d. 1957
Kate Taylor Webb, b. 1880, d. 1973
Contributed By: Lori Powers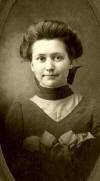 Contributed By: Dennis Kemper