This composite photo consists of Bob Ayres on the left, unknown fiddlers in the middle and Jim Ayres on the right [probably taken about 1898]. The middle photo is a corrected image. Tin-types were reverse images. In the above image the subjects are now holding the bows with their right hands. It is believed that the two "could" be Bob and Jim Ayres. Bob was born about 1870 and Jim in 1867 and the age difference seems consistent for the two fiddlers. The mouth of Bob Ayres resembles the mouth of the younger/smaller boy . In the case of Jim Ayres, he resembles the older boy when comparing their ears and nose. Jim Ayres who was known to be blind, appears in this photo and another one with his right eye closed [both cabinet photos] and this is consistent with the older unknown boy who also has his right eye closed. The black color on the back of the tin-type of the two unknowns suggested a date of about 1870 or earlier but now more weight is given to the above comparison with a more likely date of about 1886.
Contributed By: Paula Ayres Olszewski & Barry L. Marston

John Lewis [1858-1932] and Amanda Jump Ayres [1869-1917] This information was updated 11/24/07 by Barry L. Marston.
Contributed By: Paula Ayres Olszewski & Barry L. Marston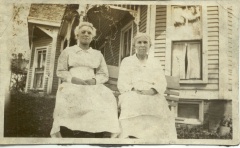 Nancy Adaline "Addie" Jump Osborne [1866-1945] & Sarah Jane Jump [abt. 1844-?], mother of Addie and Amanda Jump Ayres in photo to left.
Contributed By: Della Baker