Will U at KS
Contributed by:
Brad Bell

I believe this is Katie Roberts, James Granville III Cason (1867-1914) and I believe Lucinda Ingles-Knox "Ma Knox"(1830-1897).
Photo taken at Boyd Park
Contributed by:
Brad Bell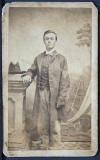 James W. Yelton, son of James Perry & Nancy Thomas Yelton and grandson of John & Anna Lambert Yelton. John and Anna Yelton owned a large farm which straddled the Pendleton - Campbell County line. The house was located on the Campbell County side and the barn on the Pendleton County side.
James W. Yelton Enlisted on 8/1/1862 as a 1st Sergeant. On 8/1/1862 he mustered into "D" Co. IN 78th Infantry. He was Mustered Out on 10/3/1862 at Evansville, IN
Photo Contributed By: Dan

Another Place in Time
Reprinted in the Grant News Aug. 9, 1990
Arnold Family
Tilberry Miles Arnold & Elizabeth Pock Arnold md. April 5, 1850. Children were; Benjamin Franklin, William Floyd, Walker Cushingberry, John Milton, Cora Belle, Thomas, Elias Bailey, Charles Knot, Joseph Edward & Elmer Johnson Arnold.
The Arnold family was from Falmouth & Dry Ridge. The house in photo was was on Hwy. 22, Pendleton Co.
Contributed by:
Beulah Ward Bloomfield (granddaughter of Walker C. Arnold)