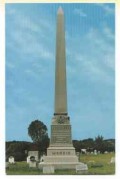 Cemetery marker for Dr. Rob Morris. He is renowned as the poet laureate of freemasonry. As he only had daughters, he decided to help form the Eastern Star for women so they would have a sorority to meet as he did with his male friends. He's a former grand master for the state of Kentucky.


This is the old Mallory Taylor Hospital in LaGrange. It has since been replaced, but most people living in Oldham still remember vividly of it being the only hospital nearby at all.
Submitted by: Donald Murphy, Registry#0000631


This is Dr. Rob Morris's home.
Both postcards submitted by: Donald Murphy, Registry#0000631