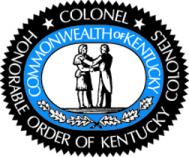 An Honorary Kentucky Colonel
Suzanne Yelton Shephard Commissioned March 4, 1974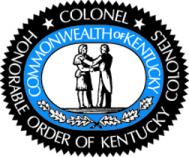 An Honorary Kentucky Colonel
Sherri Bradley Commissioned October 25, 2010


Sherri Bradley and Suzanne Shephard are the County Coordinators for this KYGenWeb site. Please feel free to contact us at any time. Contributions of material are always welcome! Just let us know! Also, please let us know if you find any broken links, incorrect email addresses or missing pages.
Gallatin County, Kentucky is proud to be a part of USGenWeb & KYGenWeb.

If you are interested in hosting a Kentucky county or volunteering in some other way, please contact Sherri Hall Bradley, State Coordinator.
Special Notes from Gallatin County Researchers
---
Do You Facebook??
Kentucky History and Genealogy Network-Facebook Groups

Kentucky History and Genealogy Network is a free resource representing thousands of people wishing to identify and connect with their Kentucky roots.

kentuckyhgn.org

Click on the map to visit this site (you must have a Facebook page)

Kentucky History and Genealogy Network is not associated with any genealogical, historical, or governmental organization. We are independent and volunteer-based.
---
While cleaning out my Dad's house recently, we came across a collection of papers that belonged to Katherine Wilson Thomas (1903-1989) who lived in Glencoe. She married Robert Thomas who was the son of Maude Price and Robert P. Thomas who was a prominent doctor in the Gallatin, Owen and Grant County area. It is a large collection of postcards, letters and other documents. There are letters and postcards from WWII as well as a WWI Volunteer Medical Service Corp. certificate belonging to Robert P. Thomas. We are not related to this family. I don't believe that Robert and Katherine had any children. I would like to hear from anyone who may be related to this family. I would like to pass this wonderful collection of papers along to a family relation. Please contact Karen Frans, karen_frans356@hotmail.com
Search Our Site
There are two New "Special Projects"
Early Supreme Court Cases - the first cases, from 1785-1792
Eastern State Hospital Cemetery Project

Gallatin County Public Library
209 West Market Street (PO BOX 848)
Warsaw, Kentucky 41095
Phone: 859-567-2786
FAX: 859-567-4750
Info@GallatinCountyLibrary.org
The Gallatin County Public Library is updating its Kentucky Room and genealogy research capabilities. Be sure to check out this great resource!!!!
Gallatin County Mail Lists & Message Boards

Neighboring & Nearby Counties
Gallatin Co. was formed in 1798 from Franklin, Shelby
Owen formed in 1819 from Scott, Franklin, Gallatin, Pendleton. Trimble formed in 1837 from Henry, Oldham, and Gallatin. Carroll formed in 1838 from Gallatin, Henry and Trimble.

Carroll
Owen
Grant

Boone

Switzerland Co., IN
Trimble
©Copyright 2008-2013 by Gallatin County Genealogy Project All files on this website are copyrighted by their submitter and creator. They may be linked to, but may not be reproduced on another website or in any other form, without specific permission of the submitter, owner, publisher and this site moderator. Although public records are as such not copyrightable, the manner in which they are presented, including the notes, comments, etc. are. The information on this site is provided free of charge, by volunteers, for your personal use only. If you have records that you'd like to see added to this